Premium Service Card Plan
What is Premium Service Card Plan?

In order to enhance the visiting experience of our distinguished VIP guests, CHINA DIECASTING 2022 prepares a new concept - "Premium Service Card" to upgrade our services, provide more information and opportunities. The concept includes four characters of "Convenient, Comfortable, Tailored, Valuable" to deliver our respects to the customers, and provide valued-added services throughout the whole year.


How to apply:

Visitors from aerospace, automotive, telecommunications, electronics and other application fields, decider of purchasing or in line with the following positions, could apply for Premium Service Card upon verification by organizers.






Premium Service: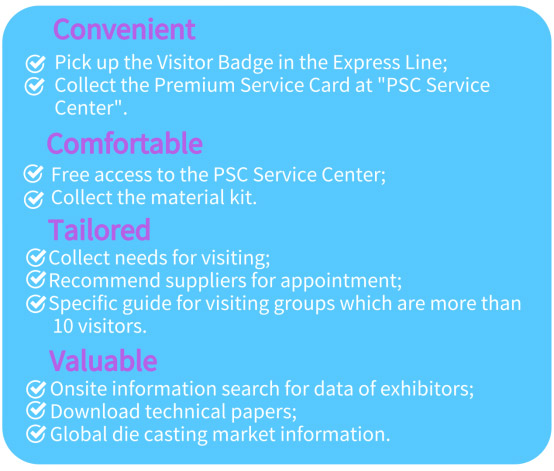 Contact:
Mr. Tony Zhuang
Tel: +86 21-60361215
Fax: +86 21-52284011
Email: tony.zhuang@nm-china.com.cn